SABOTEN NOSE WAX
"SABOTEN NOSE-WAX HOMECARE SET" is easy to use,
just need to microwave for 1 minute, then you can remove your nose hair.


MERIT
+ Avoid hurting inside of nose by using special stick
+ Not painful
+ For a short time
+ Less pricks, compare with cutting.
+ Need it only once a month
+ Smells good(Vanilla)
+ You can remove nose hair which is hardly cut by using scissors or trimmer
MOVIE
SET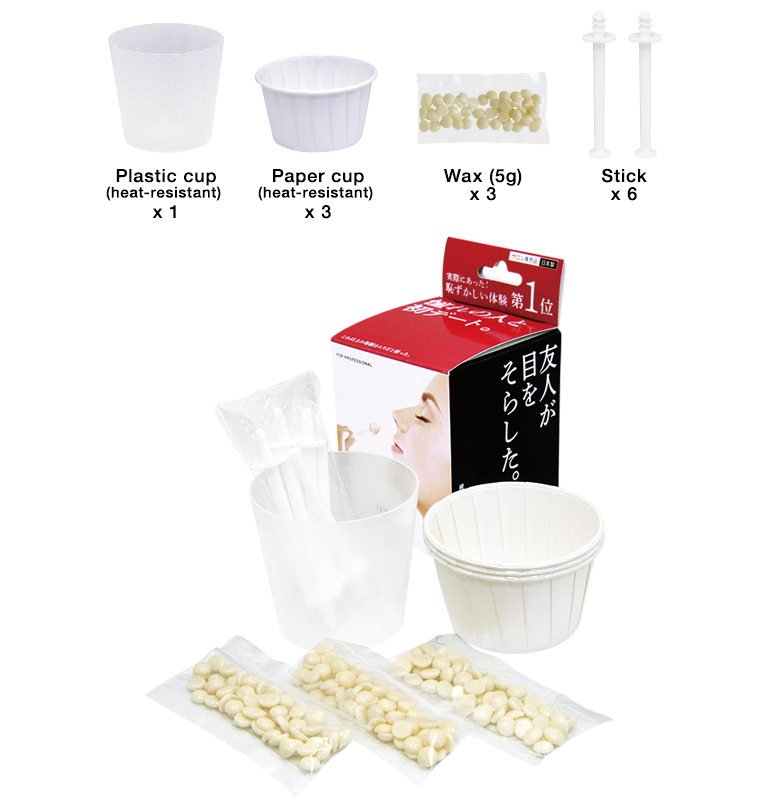 HOW TO USE
CAUTION
Please follow below cautions for your safety.
* Please cover your beards with tissue or towel when you use it.
* If wax sets before inserting, please re-heat it.
+ If wax stick to your eyes or into your mouth, please wash it with running water and submit to medical treatment.
+ Wax needs to be heated enough for
+ Do not lie down when you use.
+ Before and after using, dabbing baby oil or petroleum jelly is good for your safe.
+ If wax leave your skin, please wipe up with baby oil.
+ Do not reuse used wax and stick.
+ If wax droop over your cloth, please wait until it sets. After setting, pull it up carefully.
+ Once-a-month use is the best term for nose.
+ The person who have bad skin condition, please talk to doctor first.
+ This wax if for nose hair only, do not use for ear, beards and so on.
+ This wax cannot be eaten.
+ Do not use it for a child
+ Please use it as your own judgement, we do not take responsibility for trouble in use.
SPEC